What Kind of Business do

You

Want to Own?
Attract more customers?
Sell more at your price?
Free time for your family?
I'll show you how to do it.
From: Brian Phillips
Let's be honest. You want to improve your small business. I have an e-book that can help you do that, and I want you to buy it.
I am not going to bore you with a long sales letter telling you how great my book is and how much money you will make if you order it. I don't know you or anything about your business. So I'm going to tell you what is in my book, the benefits that it provides, and share some comments that a few of my satisfied customers have made. Then you can decide if my book will help you build a better business.
According to the Small Business Administration, more than 90% of the businesses starting today will not make it to their 5th anniversary. Of those that survive 5 years, another 90% will fail within another 5 years. After 10 years, less than 1 out of 100 small businesses remain open.
The reason most businesses fail is because the owner does not have the necessary business skills. He gets what Michael Gerber (author of The E-Myth) calls "entrepreneurial seizure". A skilled technician decides he is tired of working for someone else and hangs out his shingle–now he'll make the big bucks. The problem is, this seldom works out well. A skilled technician does not necessarily make a good business owner. The skill sets are much different.
The material is so simple, but yet you can get some pretty powerful results. What I am really beginning to learn is that it all boils down to consistency—doing simple predictable things on a consistent basis. LeRoy



Proven Business Systems Help you Operate Like a Franchise
Systems Development for Small Business shows you how to develop systems in the crucial areas of your small business. This e-book covers:
Business Systems
Marketing
Sales
Production Management
Administration
The e-book comes with worksheets and other documents to help you develop systems for your business.
The information is direct, thorough, understandable, and put together very well. I highly recommend that business owners looking to organize their business and take control of the most common issues we deal with, order this… Sean
Systems Development for Small Business addresses all of the common complaints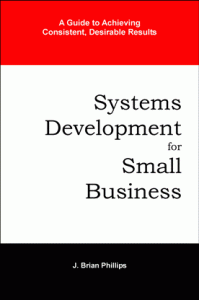 small business owners have, and more.
What's Your Problem?
Systems Development for Small Business addresses all of the common complaints small business owners have, and more. This book will show you how to:
Develop procedures and processes so that your business produces consistent results.
Analyze your marketing to make informed decisions about where you invest your money.
Set quality standards for your employees and provide them with appropriate training. Then get out of their way and let them do their job.
Develop a compensation system, such as piece work, that pays on the basis of performance, rather than time worked.
Develop forms and checklists to help your employees operate more efficiently and with greater customer satisfaction.
Systems Development for Small Business will show you how to do this and more. This information packed e-book is only $9.95
Do you have trouble selling your product or service for a profitable price? Are you tired of hearing "your price is too high?" My book will show you how to:
Develop and train a sales process that overcomes price objections.
Shift the customer focus from price to value.
Make customers eager to buy your product or service.
Do you have too much to do each day? Are you tired of working at night and on weekends? My book will show you how to:
Delegate tasks without sacrificing quality.
Prioritize so that you spend your time on those tasks most important to your business.
Focus on your long-term goals, rather than putting out fires all day long.
Before coming across your products I felt very overwhelmed when I tried coming up with systems to integrate into my business. You basically just lifted a big burden off of my shoulders. David
If you are struggling to systematize your business, then you will find tremendous value in Systems Development for Small Business. This powerful e-book is only $9.95.
BONUS #1: If you order today I will include our Administration Operations Manual Template. This template provides sample procedures that will save you countless hours in systematizing your business.
BONUS #2: You will also get Bloggers Guide to Profits. This powerful e-book will explain how to use blogs to generate additional income.
Once your payment has been processed, you will receive an email from BEP Enterprises with download instructions.